Edition: May 2019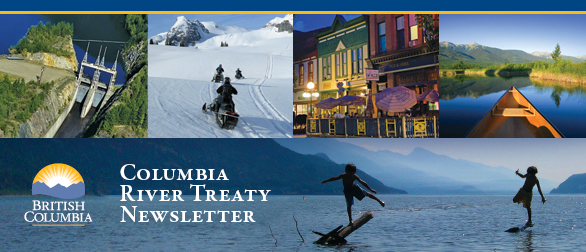 Treaty Negotiations Update
May 30, 2019
On April 10, 2019 Katrine Conroy, British Columbia's Minister Responsible for the Columbia River Treaty welcomed the negotiating teams representing Canada and the United States to Victoria, B.C., for the latest round of negotiation meetings. The two-day session, which wrapped up on April 11, marked the first time that negotiators have met in British Columbia's capital city since discussions about modernizing the Treaty began in May 2018.
Over the past year, negotiators have held six sets of meetings, in a variety of Canadian and U.S. locations – in Nelson, B.C., Portland, Oregon, Vancouver, B.C., twice in Washington, D.C., and now in Victoria, B.C.
During the first day of meetings in Victoria, negotiators continued working to find common ground on flood risk management and hydro power co-ordination. To support the progress of these discussions, the teams decided to conduct collaborative technical work on these topics between negotiating rounds.
On the second day of meetings, the Canadian team led a discussion on other benefits to the U.S. that are not considered in the current Treaty, such as navigation, recreation, irrigation and fisheries. The Canadian team believes that these benefits should be considered in a modernized Treaty.
The Canadian team also raised the topic of adaptive management, a process to ensure the Treaty can adapt to changing societal and Indigenous values, new science and technology, and climate change.
Although the Columbia River Treaty was originally created to reduce flood risk and enhance power generation on the Columbia River, the current discussions are looking at how the Treaty can be modernized to reflect the present and future needs of Canada and the United States.
Columbia Basin Indigenous Nations continue to play a key role in the negotiating process, meeting with Canada and B.C. regularly since early 2018 to develop and refine negotiating positions and options. They have also been working with Canada and B.C. to define their role during negotiations. On April 26, the federal government announced that representatives from the Ktunaxa, Sylix/Okanagan and Secwepemc Nations will be official observers at the Canada-U.S. negotiations. Read more on this in the next story.
The Canadian negotiating positions represent the perspectives of those who live and work in the Columbia Basin. Canada and B.C. continue to connect with Basin citizens, local governments, technical experts and non-government organizations, to ensure the needs of the Basin are reflected in Canada's negotiating positions.
Negotiations are scheduled to resume in Washington, D.C., on June 19 and 20, 2019.
Updates on negotiations are posted on the Province of B.C. Columbia River Treaty website: https://engage.gov.bc.ca/columbiarivertreaty/