Edition: May 2020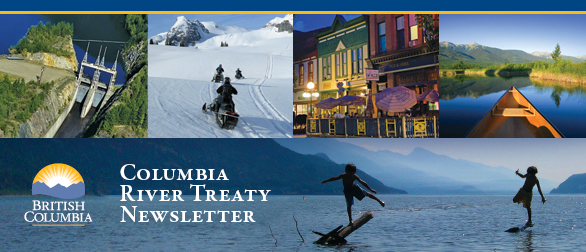 Treaty Fact: What is the Role of Indigenous Nations in the CRT Negotiations?
May 28, 2020
The presence of Columbia Basin Indigenous Nations as observers at the Canada-U.S. negotiations is an important and unprecedented step in demonstrating Canada and B.C.'s commitments to the United Nations Declaration on the Rights of Indigenous Peoples and to both governments' journey towards reconciliation.
On April 24, 2019, the Honourable Chrystia Freeland, then Minister of Foreign Affairs of Canada, announced that representatives of the Ktunaxa, Secwepemc, and Syilx/Okanagan Nations would participate as observers at the Canada-U.S. Columbia River Treaty negotiations.
Since then, representatives of the Ktunaxa, Secwepemc, and Syilx/Okanagan Nations have been present in the negotiating room and are full participants in caucus meetings with Canada and B.C. during negotiating sessions. They are also full participants in preparatory meetings with Canada and B.C. before each round of negotiations and debrief meetings after each round.
Indigenous Nations' role in the Treaty process is not limited to their participation in the negotiations. They are also leading work to explore enhancing Basin ecosystem function and reintroducing salmon to the upper Columbia River.
The Nations' work directly informs Canada's negotiating positions and has also been brought to the bi-lateral discussions. At the eighth round of negotiations in ?aq'am, (near Cranbrook, B.C.), September 2019, Indigenous Nations representatives delivered two presentations on behalf of Canada to the U.S. delegation; one on ecosystem goals and objectives in the Canadian Columbia River Basin, and another on the collaboration between Indigenous, provincial and federal governments to explore the feasibility of reintroducing salmon to the Upper Columbia River.
Indigenous Nations are a key part of the process and have been working closely with the governments of B.C. and Canada since February 2018, to develop and refine negotiating positions and strategies. This collaboration will continue.