Edition: September 2019 (Updated)
Resources
News by Sector
Economy
Government Operations
Multiculturalism
Services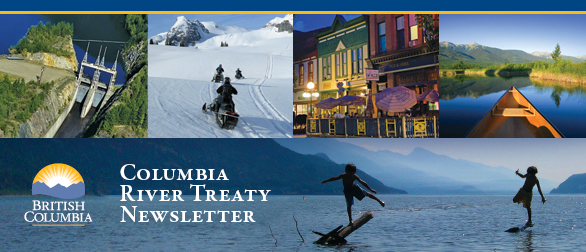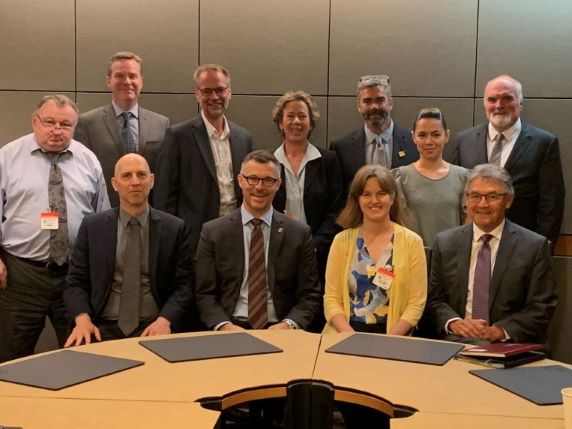 Canada Team and Indigenous Nations Representatives in Washington, D.C., for the 7th Round of Negotiations. 
Treaty Negotiations Update


The seventh round of negotiations about the future of the Columbia River Treaty between Canadian and U.S. delegations took place in Washington, D.C., on June 19 and 20.
Joining the Canadian team at the table for the first time, were official observers representing three Indigenous Nations of the Canadian Columbia Basin: the Ktunaxa, Syilx/Okanagan and Secwepemc Nations.
After the talks wrapped up, the Indigenous Nation representatives  issued a statement, noting that "while a great deal of work remains to be done, we are very pleased with what we have observed and participated in to date. This precedent-setting role as observers builds on and enhances our important work with Canada and B.C. over the last two years."  Read more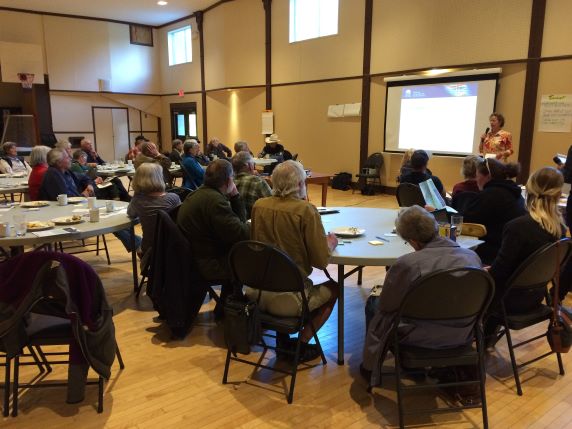 Community Meeting in Meadow Creek, 2018
Community Meetings Return to the Basin in Fall 2019


The provincial government will host another series of meetings this fall to engage with and update B.C. Columbia Basin communities about negotiations and the future of the Columbia River Treaty. This year's meetings will include a presentation from representatives of Indigenous Nations from the region, discussing the work they have led regarding ecosystems and the Treaty.
Following the 10 meetings held in the Basin in 2018, this October and November there will be a series of 12 community meetings across the region. Locations, dates and other details will be announced soon.
Representatives from three Indigenous Nations, Canada and the Province of B.C. sign a landmark agreement to collaborate on the re-introduction of salmon to the Upper Columbia River. Seated from left to right: Mark Thomas, Councillor, Shuswap Indian Band, representing Chief Barb Cote, on behalf of the Secwepemc Nation; Chief Chad Eneas, Chief, Penticton Indian Band, representing the Syilx Okanagan Nation; Kathryn Teneese, Chair, Ktunaxa Nation; Pamela Goldsmith-Jones, Parliamentary Secretary, Global Affairs Canada; and Doug Donaldson, B.C. Minister of Forests, Lands, Natural Resource Operations and Rural Development.
 Agreement to Collaborate on Salmon Re-Introduction


The Columbia River sparkled under a sunny sky on July 29, 2019, as representatives from Indigenous Nations, federal and provincial governments, and community residents gathered in Millennium Park in Castlegar for the signing of a historic letter of agreement.
Under the agreement, the Ktunaxa, Secwepemc, and Syilx Okanagan Nations and the Canadian and B.C. governments have committed to work together to explore options for the re-introduction of anadromous salmon into the Upper Columbia River Basin.
Historically, large numbers of salmon moved up the Columbia River to the headwaters at Columbia Lake. But construction of the Grand Coulee Dam between 1933 and 1942 cut off salmon migration up the Columbia. Additional hydro dam development in Washington and B.C. in subsequent years created further fish barriers and altered river flows.
The loss of the salmon was devastating to Indigenous peoples who relied heavily on Columbia River salmon for food and for social and ceremonial needs.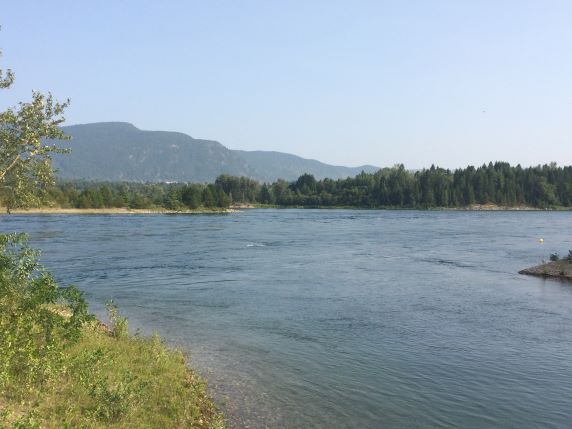 Columbia River
Columbia River Treaty Town Hall in Boise, Idaho


On July 18, 2019, the United States' lead Columbia River Treaty negotiator, Jill Smail, led a town hall meeting in Boise, Idaho, to provide an update on Treaty negotiations.
It's the fourth in a series of town halls presented by the U.S. Department of State to hear U.S. Basin residents' perspectives about the Treaty and keep them informed as negotiations progress. This event followed similar sessions over the past couple of years in Spokane, Portland, and Kalispell.
Boise is the capital of the state of Idaho. It's located on the Boise River in the southwest corner of the state and is home to about 230,000 people. The town hall took place in the Lincoln Auditorium at the Idaho State Capital Building and was also webcast. 

Treaty Fact


What flood control is provided under Columbia River Treaty?
The Columbia River Treaty prescribes two main types of flood risk management:
1 – Assured Annual Flood Control
Canada agreed to provide 8.45 million acre feet (increased to 8.95 million acre feet in 1995 due to a reallocation between Arrow to Mica) of assured annual water storage for flood control purposes (also referred to as Flood Risk Management) for 60 years at the three Treaty reservoirs (Duncan, Arrow Lakes [Keenleyside], and Kinbasket). This expires automatically in 2024.
2 – On Call Flood Control
On Call Flood Control is intended to be used during periods of very high water inflows.  Under certain specified conditions, the United States can request that Canada provide On Call storage in addition to the Assured Annual Flood Control to prevent flooding. In this event, Canada would provide extra storage above and beyond the assured 8.95 million acre feet at Canadian reservoirs.
For each of the first four On Call requests, the U.S. must pay Canada $1.875 million U.S. Dollars. For each and every request, the U.S. must also compensate Canada for hydroelectric power lost, by delivering electric power to Canada equal to the hydroelectric power lost as a result of operating the storage to meet the On Call flood control need.
3 – Called Upon Flood Control
This provision comes into effect in 2024 at the expiration of the 60 year Assured Flood Control, unless another Flood Risk Management agreement is reached, and remains in effect as long as the Columbia River Treaty dams exist, even if the Columbia River Treaty is terminated. This operating regime is more ad hoc, and would require the U.S. to make "effective use" of their reservoirs, drafting them more deeply and more frequently, prior to "calling upon" Canada for additional storage to prevent damaging floods.
For each request, the United States must pay the operating costs and any B.C. economic loss.