Resources
News by Sector
Economy
Government Operations
Multiculturalism
Services
Edition: B.C. Non-Profits Newsletter - Summer 2022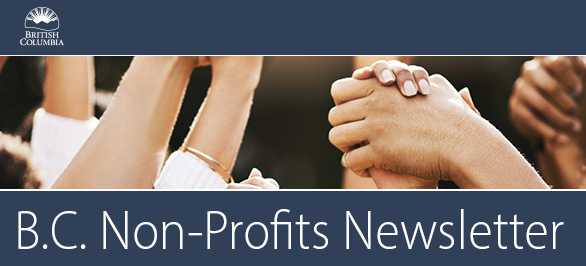 Message from Parliamentary Secretary Niki Sharma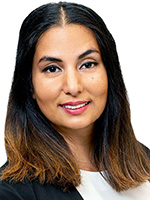 In my March newsletter, I was excited to share with you government's historic investment of $30 million to create the Non-Profit Recovery and Resiliency Fund. Vancouver Foundation contributed $4 million, bringing the fund total to $34 million. Vancouver Foundation, United Way BC and New Relationship Trust has been working on the eligibility criteria and application process.
In this newsletter, I'm happy to announce that applications to the fund are now open until the end of September.  In addition to government's first-time investment of $30 million, the fund is ground breaking in how funds will be distributed.  A trust-based application process is being used and multi-year grants will be distributed.
The creation of this fund was a direct result of the input I received from the non-profit sector and is designed to help non-profit organizations disproportionately impacted by the COVID-19 pandemic recover and build long-term resiliency.  Apply to the fund!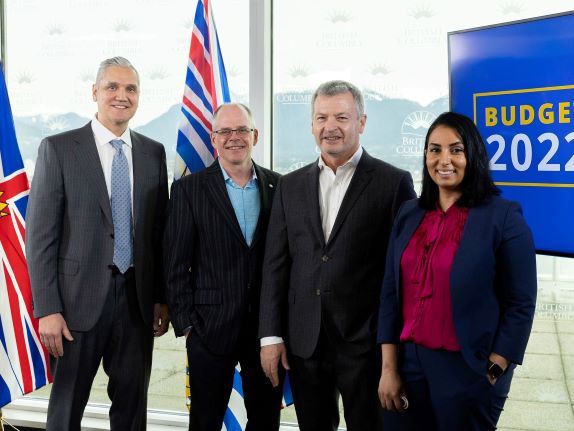 Left to Right - Walter Schneider, CEO, New Relationship Trust; Kevin McCort, President and CEO, Vancouver Foundation; Michael McKnight, President and CEO, United Way BC; and Parlimentary Secretary for Community Development and Non-Profits Nikki Sharma
This past spring we were able to make several funding announcements that will help improve food security, fight period poverty and increase access to affordable dental care for people with lower incomes in addition to many more announcements that we have included in the next section.
I applaud the volunteers and staff and our non-profits for all the hard work they do behind the scene that help people access services. Your partnership is what truly makes a Stronger B.C. and we couldn't do it without your dedication so thank you!
Niki Sharma
Parliamentary Secretary for Community Development and Non-Profits


News
Legislative review of Co-operative Association Act
Part of my mandate is to modernize B.C.'s co-operative sector. I'm pleased to say government is launching a review and rewrite of British Columbia's
Co-operative Association Act
, which provides rules for the incorporation and corporate governance of co-operative associations. The legislative review will help ensure co-ops can operate efficiently while ensuring transparency and accountability. Based on initial feedback from the co-op sector received by Aug. 15, 2022, a consultation paper will be released by the Ministry of Finance this fall. To provide initial feedback and to stay updated on progress, visit:
https://www2.gov.bc.ca/gov/content/employment-business/business/cooperative-association-act-review


New anti-racism data act to fight systemic racism
Government has been working hard to make life better and more affordable for all British Columbians. In early May, the Province introduced the 
Anti-racism Data Act
. This legislation will enable us to do that work and determine exactly what data to collect and how it will be collected. At the same time, the Act will also allow us to use data in a new way to help to address systemic racism. Initially, the legislation will only apply to government ministries, with the broader public sector to be brought under the legislation through a phased approach. Priority areas could include areas such as government grant programs and will be set with Indigenous Peoples and racialized communities. Government will be consulting with public sector organizations to determine next steps as we continue to roll this legislation out and improve government programs and services for more people.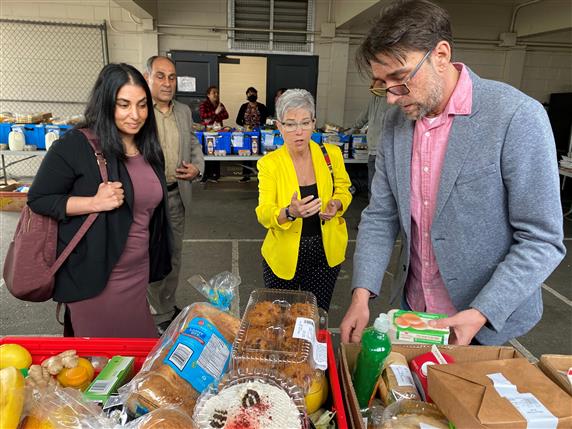 Annoucements
Non-profit
July 8 - The Province is investing $8.4 million to advance reconciliation in the B.C. community social services sector in partnership with the BC Association of Aboriginal Friendship Centres. Read more.
June 22 - The Province, through BC Housing, has partnered with Kelowna Gospel Mission to lease a new site for use as a temporary shelter for people experiencing homelessness. Read more.
June 17 - Youth experiencing or at risk of homelessness in Vancouver now have access to 40 new shelter units and on-site services, with Phase 2 completion of Covenant House Vancouver's expansion project. Read more.
More non-profit annoucements from the last quarter here.


Housing
Jul 11 - The Province, through BC Housing, has partnered with the Community Land Trust of B.C. and the City of Burnaby to preserve 425 units of affordable co-operative housing for seniors and people with low incomes.
Read more.
July 8 - David Eby, Minister Responsible for Housing, has announced changes to the composition of the BC Housing Board of Commissioners. Read more.
July 5 - Construction is underway on Phase 2 of the Kekinow Native Housing Society's Sohkeyah development in Surrey. Read more.
More housing annoucements from the last quarter here.


Reconciliation
July 6 - Strengthening support and capacity for the Tŝilhqot'in National Government and its communities to be true partners and leaders in emergency management is the foundation of the renewed five-year tripartite Collaborative Emergency Management Agreement.
Read more
July 4 - The Province, the Government of Canada, Coastal First Nations and Haida Nation are coming together to honour the passing of the United Nations Declaration on the Rights of Indigenous Peoples and to celebrate the economic achievements unlocked through digital connectivity investments for coastal and island First Nations. Read more.
June 30 - The Province is releasing the third annual report on efforts to ensure B.C. is a place where the inherent rights of Indigenous Peoples are respected, and First Nations, Métis and Inuit people can thrive. Read more.
More reconciliation annoucements from the last quarter here.


Social supports
June 30, 2022 - Young men in the Fraser Health region who are living with substance-use challenges have increased access to treatment services as B.C. continues to build a comprehensive system of mental-health and addictions care.
Read more.
June 30 - People with substance-use challenges living in Abbotsford and surrounding communities have better access to addiction medicine with the opening of the Fraser East Rapid Access to Addiction Care clinic. Read more.
June 29 - Opioid manufacturer Purdue Pharma (Canada) (Purdue Canada) has agreed to a first of its kind settlement in Canada resulting from B.C.-led efforts to recover health-care costs related to the sale and marketing of opioid-based pain medicines. Read more
More social support annoucements from the last quarter here.


Families, children and youth
June 20 - Applications are being accepted from child care providers to join the $10 a Day ChildCareBC program this year, which will enable them to offer low-cost child care, making life more affordable for thousands more families in B.C. 
Read more.
May 10 - Service providers supporting children and youth with support needs are invited to submit proposals to operate the province's first-ever family connections centres in early-implementation areas in northwest B.C. and the central Okanagan. Read more.
May 4 - The Province is helping more people in B.C.s with low incomes receive much-needed dental care. Read more.
March 31 - Services to help children and youth with support needs and their families are being boosted through $7 million in grant funding to community-based service providers and advocacy organizations. Read more.


Environment
June 20 - People in B.C. will be better protected from the impacts of wildfires, flooding and extreme heat through the actions included in the new Climate Preparedness and Adaptation Strategy.
Read more.
June 7 - The free BC Parks day-use pass program will continue in three popular provincial parks this summer to maintain a balance between growing numbers of visitors and conserving the natural environment. Read more.
June 1 - As a result of the Province's CleanBC Go Electric programs and rebates, the number of electric vehicles on B.C.'s roads has increased by 1,600% in the past six years. Read more.
May 27 - The Province is supporting public transit expansion for people in Metro Vancouver through a significant investment in TransLink that will mean better and more convenient service, lower emissions, and healthier, more livable communities. Read more.
Recent announcements for the Ministry of Social Development and Poverty Reduction can be viewed under B.C. Government News.



Funding programs for non-profits
Provincial 
Community Gaming Grants - Community Gaming Grants provide $140 million annually to non-profit organizations throughout B.C., to support their delivery of ongoing programs and services that meet the needs of their communities.
First People's Cultural Council Grants - FPCC grant funding programs support First Nations communities in B.C. in the revitalization of Indigenous languages, arts and cultural heritage.
BC Arts Council Grants – Grants offered through the BC Arts Council portal.
viaSport Grants - Funded by the Province of B.C., Government of Canada, individual foundations and corporations, viaSport awards approximately $2 million dollars in sport-related grant programs each year. 

Federal
Community Services Recovery Fund - $400 million to create a temporary fund to help charities and non-profits adapt and modernize so they can better support the economic recovery in our communities.  
Canada Small Business Financing Program
makes it easier for small businesses, including non-profit and charitable organizations, to get loans from financial institutions.